About Dr. Amy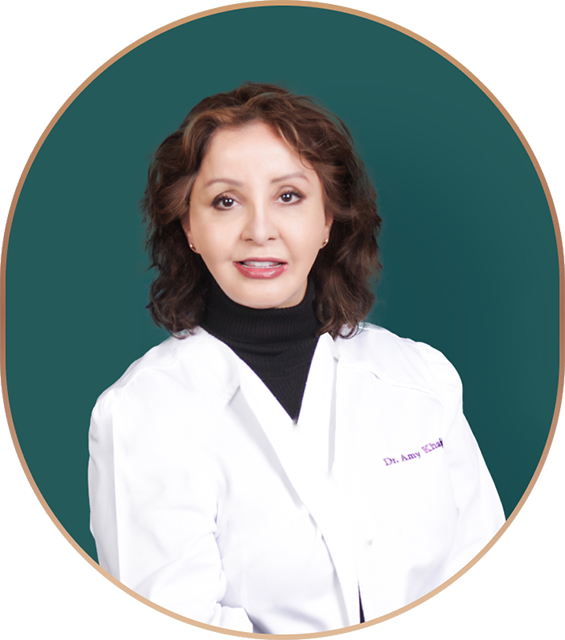 Dr. Amy Khajavi DDS is a graduate of the International College of Cranio-Mandibular Orthopedics in Chicago, Illinois. After completing her dental degree as a dentist in Oregon, she continued an additional five more years of extensive studying which led her to received the prestigious Master of International College of Cranio-Mandibular Orthopedics specializing in jaws, full mouth reconstruction , occlusion, neuromuscular dentistry, sleep disorders, and TMJ/TMD diagnosis and treatment. She has treated thousands of patients suffering from TMJ/TMD & BRUXISM. And full mouth reconstruction on dental implants. Being an orthopedist of the jaw, she has placed more than 30,000 implants, and her success rate is unsurpassed.
All Natural Dentistry's Dr. Amy Khajavi is a specialist in full mouth reconstruction using ceramic zirconia dental implants and crowns. She is one of the few dentists that provides patients with full mouth reconstruction whereby both implants and crowns are metal free – ceramic zirconia.
A holistic dental office, All Natural Dentistry only uses non-metal biocompatible materials in its dental procedures such as the surgical placement of zirconia dental implants, which is carried out using 3D technology and a fabricated surgical guide after putting the patient under IV Sedation or the supervision of a general anesthesiologist.
One of the reasons we are respected in our community is that we use PRGF or Protein Rich Growth Factor, which is attained from the patient's blood and significantly improves soft tissue healing. Moreover, the bone graft we use is a combination of PRGF stem cells and synthetic Swiss-made Bio-Oss.
Our dental office is led by Dr. Amy Khajavi who started the clinic and has more than 20 years of experience as a dentist. She completed her M.S. in Micro Biology and went on to receive her doctorate of Dental Medicine from Oregon Health Sciences University. Dr. Khajavi's post-doctoral education involved training under two world-renowned prosthodontists: Dr. Ueno Hiroshi and Dr. Bob Jankelson. After five years of training in the International College of Craniomandibular Orthopedics, she attained a Mastership in craniomandibular orthopedics of the jaw.
Dr. Khajavi's skill and experience in full mouth rehabilitation has earned her several awards including "Excellence in Full Mouth Rehabilitation" from the Las Vegas Institute for Advanced Aesthetic Dentistry in 2002. In 2003, she was named "A Highly Dedicated and Master Clinician" by the same institute. Dr. Amy Khajavi also studied implantology for a further two years, was awarded with a prestigious Fellowship by the International Congress of Oral Implantology, and considers metal-free ceramic dental implants a better alternative to titanium implants.